Womens Clothing Size Guide
| GRINGO SIZE | UK equivalent |
| --- | --- |
| Small (S) | 10 – 12 |
| Medium (M) | 12 – 14 |
| Large (L) | 14 – 16 |
| Small/Medium (S/M) | 10 – 12 |
| Medium/Large (M/L) | 14 – 16 |
| Large/Extra Large (L/XL) | 16 – 18 |
Descriptions and Care of Goods.
We have taken every care to ensure that pictures and descriptions are a true representation of the products, please be aware that most of them are hand made and minor variations in colour are inevitable.This is particularly true for all Patchwork and Applique items as all items are unique in their makeup.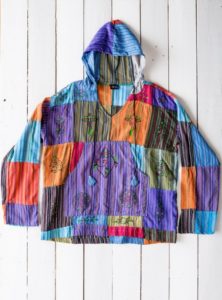 All clothing is Made in Nepal,India and Bali. Please hand wash at 30c to keep the colours true. Machine washing fades colours fast.
We reserve the right to amend prices without notice, some prices will differ on the website from in store when on Promotion or on Sale Price.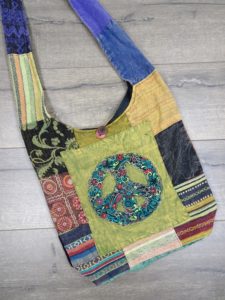 PLEASE NOTE: Due to the buying nature of  Fair Trade Clothing it is not always possible to have every size and colour in stock; we will always try to keep the website updated. If we do not have the colour in stock, we will send an alternative, but an email will be sent to  you as well.
Tony Patrick
HIPPY BUDDY.